Macmillan Adam's Studio
by
Macmillan Adam
| in
Posts
We recently expanded our office space to include a 300 square foot studio/conference room.
It started when we discovered that the office next to ours was being vacated.
After acquiring the space, we drew up some plans and got a few builders in to destroy a couple of walls, modify the ceiling and make a door from our main office's corridor. Then came the painting and carpeting. A black carpet was set with matching drapes all around the walls, to be able to adjust lighting more easily and record sound in a dampened environment, completing the final stages of construction.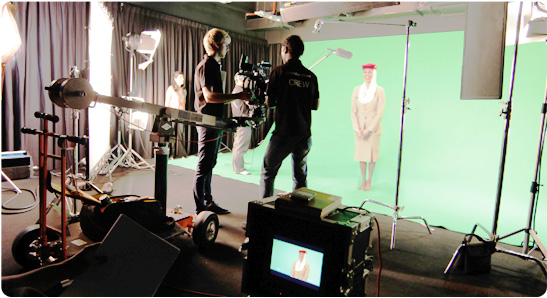 Our new studio has many uses. We can easily set up our 40 foot green screen and light it with Arri HMIs and Kinoflos for our different projects. Add a mini-jib, a Sony F55 cinema camera connected to an external HD monitor, and the studio is client-ready.
The main advantage of the studio is that it is fully convertible: folding tables and director's chairs mean we can use it anyway we want to. We can hold staff or client meetings, celebrate birthdays or simply enjoy the occasional lunch together in a comfortable setting.